Topic: CRYSTAL RECORDS
New Release October 2005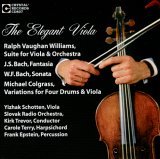 CD837: The Elegant Viola. Yizhak Schotten, Viola. Ralph Vaughan Williams, Suite for Viola & Orchestra; J.S. Bach, Fantasia; W.F. Bach, Sonata for Viola and Harpsichord; Michael Colgrass, Variations for Four Drums and Viola. Yizhak Schotten, Viola; Carole Terry, Harpsichord; Frank Epstein, Percussion; Slovak Radio Orchestra, Kirk Trevor, Conductor
This is Yizhak Schotten's fifth CD on Crystal Records. He has been called "one of America?s finest string players" by STRAD Magazine. Schotten is formerly principal viola of the Houston and Cincinnati Symphonies, and a member of the Boston Symphony. He is one of the most respected violists in the world. He now teaches at the University of Michigan in Ann Arbor. This is one of the only available recordings of the beautiful Suite by Vaughan Williams, and is the only recording of the Variations by Michael Colgrass.
New Releases September 2005
CD265: Anton Reicha: Woodwind Quintets Vol 5: opus 91, no.s 3 & 4. Westwood Wind Quintet This is the second release in Crystal Records' series of Anton Reicha's monumental 24 woodwind quintets. These are beautiful works, symphonic in scope. Reicha (1770-1836) was a friend of Beethoven's and his writing illustrates the style of that period. One of the most influential composers and teachers of the early 1800s, Reicha was Professor of Counterpoint and Fugue at the Paris Conservatory.
The Westwood Wind Quintet has recorded more than 15 albums in addition to the Reicha series, and has performed over 2000 concerts since its inception in 1959. The group has been called "a complete and completely satisfying musical experience" by legendary conductor Robert Shaw. Daniel Carriaga, writing in the Los Angeles Times about a concert of the Westwood Wind Quintet, said "An accumulation of instrumental polish and important repertory over a long period has resulted in a treasurable sense of ensemble and musical solidity."