---
Fernando Sor: Les plus belles pages
Mood:
lyrical
Now Playing: David Starobin, guitar
Topic: David Starobin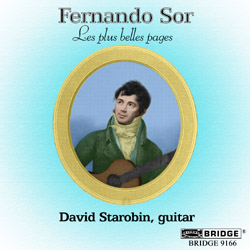 Product Link on Barnes & Noble.com.
Etudes, Op. 29, Nos. 23 and 17; Etude Op. 6, No. 12; Allegro moderato, Op. 35, No. 24; Fantaisie Villageoise, Op. 52; Cantabile, Op. 47, No. 5; Andante, Op. 47, No. 1; Etude, Op. 6, No. 2; Andante, Op. 31, No. 13; Menuet, Op. 24, No. 6; Andantino, Op. 44, No. 22; Rondeau, Op. 48, No. 6; Introduction, Theme and Variations, Op. 20; Andantino, Op. 60, No. 23 BRIDGE 9166 DDD This new CD presents a collection of 14 of Fernando Sor's (1778-1839) finest compositions. David Starobin performs all of this music on a 1923 Herman Hauser guitar?a small instrument that was modeled after an early 19th century Viennese design. Writing of Starobin's performances of 19th century music in Milan's "Il Fronimo", the journal stated that "Starobin has grasped the authentic spirit, aided by his perfect instrumental technique. Here, the music acquires its truest meaning with exalted phrasing, as it is rarely heard." Reviewing Starobin's last Sor recording in "Gramophone", critic Jed Distler writes that "Starobin evokes the virtuosity of Artur Schnabel's Beethoven". NPR's "All Things Considered" said: "David Starobin's interpretations are both sparkling and tender. Every note, every nuance, every gesture seems part of one clearly imagined vision. More than a virtuoso, Starobin is a champion for musical truth." From the early Op. 6, 12 Etude?one of Sor's most transcendent pieces- to the late, experimental "Fantaisie Villageoise" (the work contains what is probably the first usage of multiphonics on any instrument), this collection includes many of Sor's most beautiful and least recorded works. Also featured on this recording is Sor's masterful Op. 20, a set of virtuoso variations.
Posted by BSB, editor at 3:41 AM EST |
Post Comment
|
Permalink
Updated: Monday, 13 June 2005 2:25 PM EDT