I LET THE MUSIC SPEAK
Topic: Anne Sofie Von Otter
ANNE SOFIE VON OTTER
I LET THE MUSIC SPEAK: A TRIBUTE TO BENNY ANDERSSON AND BJORN ULVAEUS
http://www.amazon.com/exec/obidos/ASIN/B000G6BJMG/ncdn
Fulfilling her wishes, Anne Sofie von Otter celebrates the songs of
ABBA, Benny Andersson and Bjorn Ulvaeus in her own way.
(October 3, 2006- New York, NY) This October 10th, Deutsche Grammophon presents Anne Sofie von Otter I Let the Music Speak celebrating the music of ABBA and other songs by Benny Andersson and Bjorn Ulvaeus.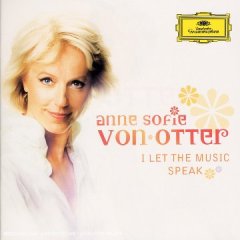 I Let the Music Speak was born from Anne Sofie von Otter's passion for the music of Benny Andersson and Bjorn Ulvaeus - a long-standing admiration that dates back more than two decades. Von Otter had just been engaged by the Basle Opera in the early 1980s when she bought ABBA's album The Visitors, and her devotion to Andersson's music took full hold with Kristina från Duvemåla, a musical she went to see again and again (scheduled to premiere in the United States in 2007).
When it comes to paying tribute to a composer as prolific and as multi-talented as Andersson, however, it takes more than just passion; it also takes a careful selection process. For more than 40 years, Benny Andersson has been composing music in a wide variety of genres: film, folk music, musicals, and of course ABBA's unbeatable pop hits. We find six of those here, from the up-beat "I Am Just a Girl" (originally written for Jarl Kulle, before the group had taken the name ABBA), the title track "I Let the Music Speak" and "The Winner Takes It All" to the last tune before the group split, "The Day Before You Came." She has also chosen to perform emotional ballads from the Andersson/Ulvaeus musicals Chess (1984) and Kristina från Duvemåla (1995), including "Ut Mot" and "Heaven Help My Heart."
Anne Sofie von Otter's motivation behind this project is rooted in her admiration for Andersson's music and in her emotional response to his compositions. "I sing things that I like and that touch me in some way - be it Mozart or Bach or Handel or Monteverdi or Benny Andersson - as long as it means something to me. But the main reason is because I think this music is fantastic. I love it."